How did the Lord open the door for a deaf ministry?
     Keila took one year of American Sign Language (ASL) in high school so that she could communicate with a deaf friend.  However, when she finished her class, her friend moved away.  The knowledge she gained in that class was then "put on the shelf."  Little did she know that God would use that knowledge ten years later.
     When Keila and Matt arrived in Uganda in 1999, another missionary wife had started a small deaf ministry.  After one year, this couple moved to another town.  The main deaf man, Ambrose, had been attending church services in Mbarara.  The one-handed alphabet is the same in both Ugandan Sign Language and ASL.  Keila determined that even if she had to spell the entire message, it would be more than if no one tried to interpret for him.  From that service, Ambrose started teaching Keila the Ugandan Sign Language.  Ambrose had been taught ASL from the American Peace Corps in the country.  Because he knew both languages, Keila would show an American sign that she remembered and Ambrose would teach her the Ugandan sign.  As Keila continued to learn, more deaf would visit the church.  Keila soon became fluent in the Ugandan Sign Language but as the family grew, demands on her time also grew, so there was the need for another interpreter.  There are no nurseries in the churches here, so Keila was torn between caring for her children and helping the deaf that would attend church.
     In the last ten years, Keila has had the opportunity of teaching Ugandan Sign Language in the Bible institute.  Many attended and showed interest, but few stayed as a deaf interpreter.  There are some, however, that have shown a real burden for the deaf, and Keila was able to turn the deaf ministry over to one of the national men in the fall of 2009.
     There is one deaf man in particular, Andrew, that remained faithful in the church.  Matt was given the opportunity to disciple him (with Keila interpreting).  He has since started winning the souls of his deaf friends and is using his discipleship lessons to help others grow in their Christian walk.  Andrew has a strong burden to start a deaf Baptist church in the village.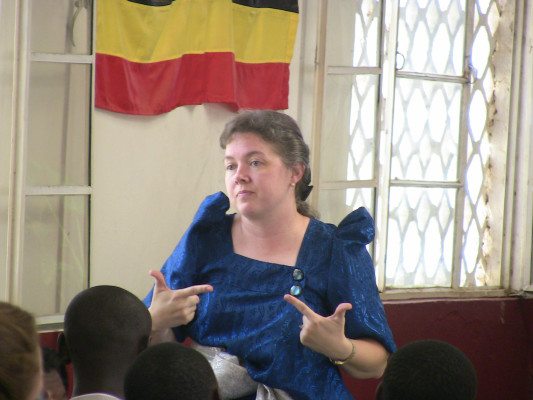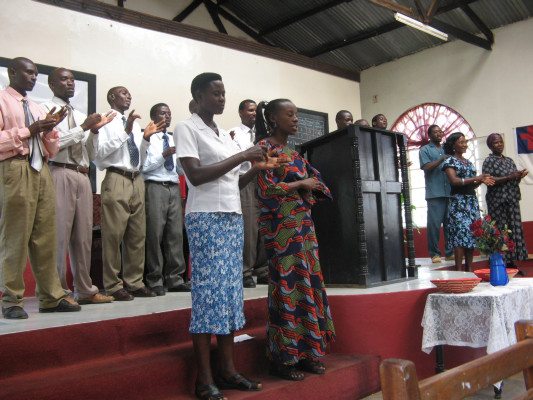 Runyankore Translation Work
     From the time we arrived in Uganda and started learning the local language of Runyankore, we saw the need to provide Bible study materials in that language.  There were NO spiritual materials of any  kind for those speaking only Runyankore.  The Lord then showed us the ministry He would have us to do (in addition to all the usual ministries).  Since that time, we have been blessed of the Lord to have been able to translate into Runyankore: an 18 lesson discipleship course, a 36 lesson Bible Doctrine course, a 50 lesson chronological Bible course, 102 children's Sunday school lessons, 48 ladies Bible study lessons, 5 gospel tracts, a basic Bible dictionary/encyclopedia, and the entire 4-year Bible institute which has 40 classes.  Praise God for allowing us to be a part of His work.  We could not have done this work without the untiring efforts of our Ugandan people such as: Edgar, Dennis, Grace, Rose, Justine, Eliab and others.  It is such a blessing to see this material being used in many of the village churches and preaching points!
     Knowing the seriousness of translating the Bible into another language, I did not want to undertake such an incredible responsibility.  So we prayed that God would send someone to do this much needed work.  In 2005, the Lord answered our prayer with the Dan Olachea family.  Dan came to Uganda with the express purpose of translating the Bible into the Runyankore language.  After gaining a modest understanding of this language, he began to teach me and our men concerning Greek and translation principles.  The men began working on the book of Mark (as it is the easiest to translate and a good book to get the men started on) and have since translated the entire New Testament.  I have played a small role in doing some of the checking.  I am so thankful that we now have a good New Testament in the Runyankore language.  Our home church has printed and shipped a 20 ft. container full of Runyankore John and Romans.  It arrived on February 26, 2010.  We received a second container full of these Runyankore John/Romans in March 2011.  We have already given out thousands of them.  We praise the Lord for the effect that this new translation is having on the Runyankore speaking people!!

     At present I am working on the final check of the Runyankore New Testament.  As I do this check I am making a Runyankore Concordance of the New Testament at the same time.  It is a lot of work, but one that will be useful to our Ugandan preachers and pastors who speak Runyankore only.  Pray that I will be able to get this finished by the end of 2015.
A description of the steps a verse goes through to be brought from the Greek Textus Receptus into Runyankore.
Bible Institute and College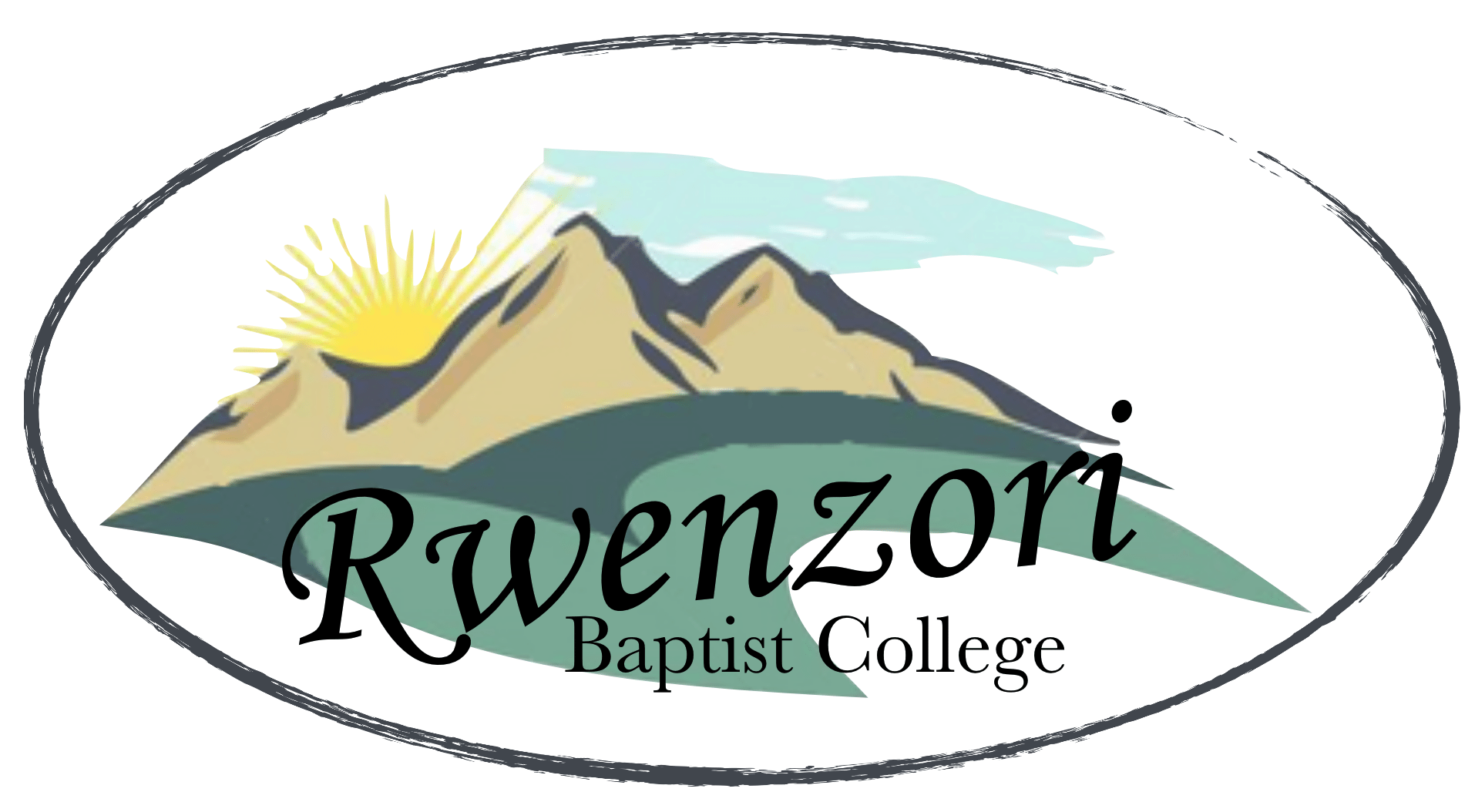 From 1999 to 2013 I had the privilege to work with my Dad in the Independent Baptist Institute in Mbarara.  It was such a special blessing to be a part of training men to go out and start other churches.
     In September of 2013 we moved to the town of Kasese.  Then in March 2015 we started the Rwenzori Baptist College for the  purpose of training men and women to serve God.  We have divided the Bible college into 3 different branches.
     The regular college in Kasese town is for those men and women who attend the Independent Baptist Church of Kasese and desire to know more about the Bible.  These classes are taught twice a week for 12-week terms.
     The mobile college is for those men who believe God has called them to preach or pastor, but they live too far from Kasese to be able to attend the weekly classes of the Bible college.  Therefore, we take the institute to them once a week for 6 hours a day.  These terms are for 5 weeks.
     Then, we have the tri-annual Bible institute (TBI) in Mbarara town for those who are still being trained and even those who have graduated from the Bible institute.  It is a concentrated week-long institute where we teach one specific course for over 8 hours a day Monday - Friday.  We provide for their lodging, food and text books.  They provide for their own transport to get to Mbarara. In the evenings, different men will preach brief messages of encouragement to the other men.  It is a great time of learning and fellowship with other godly men from around Uganda.
Kyahi Ind. Baptist Church
This church was started in the village of Kyahi in 2001.  Through the burden of one of Matt's prison converts, named Mugarura Eliab, Matt went out and began preaching, soulwinning and discipling in Kyahi.
 The church officially started in 2002 and Eliab took over the pastorate in 2004.  He has since graduated from the Independent Baptist Institute of Mbarara and has continued serving the Lord faithfully since then.
Rubindi Ind. Baptist Church
This church was started through a man from Rubindi town getting saved listening to Life Radio in Mbarara.  Byaruhanga Vincent then came to Mbarara looking for the church associated with the radio station.  Matt began discipling him every week and after that began to take the mobile Bible institute to Rubindi.  Vincent then told Matt he believed the Lord would have him start an independent Baptist church in Rubindi.  He continues serving the Lord, soulwinning, discipling people, preaching every week and is also continuing his Bible training in the institute in Mbarara.
Independent Baptist Church of Kasese
     We praise the Lord He provided for us to get 3 plots of land in a great section of town.  It sits directly on the main road through town with thousands of people passing by everyday, with good access, good visibility and within 1 kilometer of thousands of people.    
     This is our plan for building the structures that we need for the work here in Kasese.  Phase 1 will include fencing the property (areas in green) and building the church building.  Phase 2 will be constructing several 20 x 20 buildings for use as Sunday School rooms, Bible College rooms, church office/reception, etc.  Phase 3 will be the construction of a pastor's house, possible radio station and possible primary and secondary school.
     God gave us the privilege to be able to go into the Ugandan prisons and minister to the prisoners - assisting them with medicine, clothes and food on special occasions, helping them with books so as to learn to read, helping to improve the prisons, through the preaching of God's Word to the lost and then discipling those new converts in the way of Christ.  God has blessed this ministry with many prisoners and even prison officers getting saved who are now serving the Lord.  Many of the prisoners have continued to serve the Lord after being released. We are so thankful that God has given us many faithful men who are doing the work of God.
     In addition to our ministry to the prisoners, God also blessed us with an opportunity to reach the prison staff.  The deputy in charge of the prison allowed us to begin holding Sunday services for the staff once a month beginning in June 2009.  It had the resemblance of a military church since there were weeks when all of the men were on duty and could not attend. However, the Lord blessed and we saw many saved, baptized, and discipled.